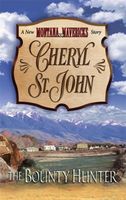 Title:
The Bounty Hunter
Author:
Cheryl St. John
Publishing Date:
2005
Genre:
Western
Rating:
B
Sensuality:
Warm
Book Disclosure:
I received a used copy from Paperbackswap.com
Nick Harding after years of being a bounty hunter, finally decides that he would like to settle down somewhere and possibly start a family and become part of a community. He accepts a position for Sheriff in the mining town of Thunder Canyon where he meets Miss Lily Divine the owner of The Shady Lady. Lily insists that she is running a legal saloon and nothing else but the Sherriff is slow to believe her as he fights his growing attraction.
The Bounty Hunter
is a touching story that explores the possibilities of love once trust is given. While Nick is very attracted to Lily it takes him a long time to trust her. This is one of the things that frustrated me with this book. He was willing to have a physical relationship with Lily and yet keep himself emotionally distant from her at the same time. It also bothered me that he couldn't see Lily for who she was right away. It took him too damn long, in my opinion.
I think that Lily was the stronger character. I really enjoyed her personality. She was very independent for a woman of that time period and she had a lot of confidence in herself and the choices she had to make due to life's difficult circumstances.
The Bounty Hunter
had good characterization and the town seemed like a character all on its own. Ms. St. John does a very good job of immersing the reader in Western town life. Overall, I enjoyed the story. However, Nick just needed to get a clue.