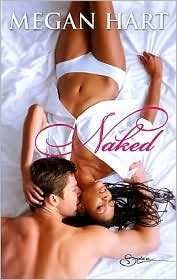 Title:
Naked
Author:
Megan Hart
Publishing Date:
August 2010
Genre:
Contemporary (Erotic)
Rating:
C+
Sensuality:
Burning
Book Disclosure:
I purchased an ebook from Barnes and Noble for my Nook.
Naked
is loosely connected to Megan Hart's book
Tempted
. It continues with Alex Kennedy meeting Olivia Mackey the morning after a Holiday celebration. It turns out that Alex needs a place to stay for a few months and Olivia has an apartment she can rent out to him while he is in town on business. Both are attracted to each other but Olivia is very hesitant to become involved in a relationship with a man who might swing both ways. She was already hurt once by her former fiancé Patrick who finally came out of the closet.
Megan Hart's writing is so difficult for me to give a grade when reviewing. I think she is such a fabulous writer. Her characters are completely fleshed out and so human that it is hard not to be drawn in by them and have an emotional reaction. But at the same time sometimes the characters are so human, faults and all, that the very same thing that drew you in pushes you away. Am I making any sense at all?
Let's start with Alex. On the outside he seems so completely put together. All posh and circumstance, yet just past the surface the man is a mess. He thinks he knows what he wants, but I am not convinced that he does. Olivia's perception when it comes to relationships is very skewed and much of this is due to the fact that the only serious relationship she has had is with a gay man.
But despite all these obstacles it is obvious that these two when together are happy. They have baggage that they will have to work to overcome. I like that the author doesn't sugar coat things and faces the fact that for the relationship to be successful, Olivia and Alex will have to work for it. I really liked how Ms. Hart ties themes of acceptance throughout the book. She took religion, race and sexual orientation all without being preachy, and showed how these things can affect a person or people. I thought that was very well done of her and it gave the book quite a bit of depth.
I must admit the way the book was going I thought it was going to end badly. Fortunately, things were resolved in the end, but I felt that the ending was VERY abrupt. I wish that things could have been hammered out a little better and eventually this is what led me to lower the grade rating. I am not entirely convinced of the happy ever after.
Here is what others had to say:
Book Addict
Thrifty Reader
Dear Author
Fiction Vixen
Smexy Books