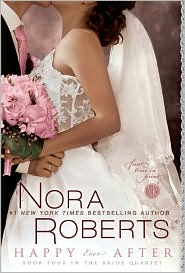 Title:
Happy Ever After
Author:
Nora Roberts
Publishing Date:
November 2010
Genre:
Contemporary
Rating:
B
Sensuality:
Warm
Book Disclosure:
I received a used copy from paperbackswap.com
Happy Ever After
is the last book in Nora Robert's Bride Quartet, a series that revolves around four twenty-something women who co-own a wedding planning company. Parker Brown's three best friends from childhood have found the loves of their lives and are soon to be married. Parker, Ms. Super-Organized, hasn't made time for herself. She is great at micromanaging everybody else's lives but when it comes to dating she has let the ball drop. Enter Malcolm Kavanaugh, Parker's mechanic and brother's friend. He is not intimated by Parkers cool demeanor. He wants to take their relationship to the next level. He just has to let Parker know that his intentions are honorable.
Happy Ever After
is a good conclusion to a fun series. I feel like the women of Vows, Emma, Mac, Parker and Laurel are my girlfriends too. Nora Roberts is just good like that. She really excels at scenes with group action and dialogue, and there is plenty of that in
Happy Ever After
. Not to worry though, Parker and Mal get their one-on-one time too. Mal is my kind of hero. He knows what he wants and he is confident enough to go after it. He takes what he wants and asks for it after the fact. Uppity Parker doesn't have a clue how to handle Malcolm. He is completely unpredictable and the shields she keeps in place end up shattering in his presence.
I rather enjoyed
Happy Ever After
, however this book was not a WOW book for me. I feel that Mal and Parker were missing that magic ingredient, that certain something, to make it really shine. I don't know if the development of the relationship was too quick for me, or if I just wanted more scenes between Mal and Parker. I really don't know, but something was missing. All in all, this was a fun book to read and
Happy Ever After
was a satisfactory conclusion to the series.
Here is what others had to say:
The Book Pushers
About Happy Books
Nitty Gritty
Errant Dreams Reviews
Kaetrin's Musings