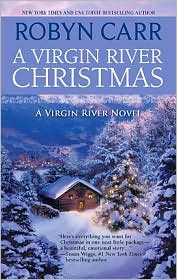 Title:
A Virgin River Christmas
Author:
Robyn Carr
Publishing Date:
2008
Genre:
Contemporary
Rating:
B+
Sensuality:
Warm
Book Disclosure:
I received a used copy from Paperbackswap.com
A Virgin River Christmas
is the fourth book in Robyn Carr's Virgin River series. I absolutely adore this series. The men are the stuff of legends and it is such a feel-good treat to read. Even though this series is so great, I feel that this book can stand on its own. You really don't need to have read the other books in the series to enjoy this story. However, I do highly recommend them, but this is a fine place to see if Robyn Carr is an author for you.
Marcie Sullivan decides that she must find Ian Buchanan, the man who saved her husband's life. See a few years back, Marcie's husband Bobby was severely injured in Afghanistan. Ian managed to get Bobby to safety but was devastated to learn that Bobby was paralyzed and never came out of the coma. Bobby considered Ian his hero and best friend. Marcie and Ian were pen pals during the years Marcie nursed Bobby. Then Bobby passed away and Marcie feels that she can't move on until she finds Ian and gives him Bobby's collection of baseball cards.
I picked up this book because I was in the mood for a Christmas read to get me in the holiday spirit and plus I love this series and Robyn Carr's writing. It was a no brainer. I am very happy I chose it because it was such a sweet story. Marcie and Ian are great characters and it was a treat to read their story.
Marcie is a little fire-cracker who once gets an idea into her head cannot be distracted. A little pit-bull is our Marcie. Ian on the other hand is a self contained mystery who wants nothing but isolation. His world is tilted upside down when Marcie disrupts his quaint, or maybe a better word is rustic, existence. These two have a large obstacle to overcome - that being the death of Bobby - but work things out and they do. It is a heartwarming story to say the least. I highly recommend this series and this book. Enjoy!