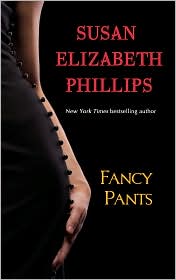 Title:
Fancy Pants
Author:
Susan Elizabeth Phillips
Publishing Date:
1989
Genre:
Contemporary
Rating:
B+
Sensuality:
Hot
Book Disclosure:
I purchased an ebook for my Nook from Barnes and Noble.
Fancy Pants
is the first book in Susan Elizabeth Phillips Texas Wynette series. It tells the story of Francesca Serritella Day, an English socialite heiress who ends up penniless in the Southern United States with only the clothes on her back. It is a tale of a spoiled, self-absorbed woman who at the lowest point of her life faces self discovery to become one of the best journalists television has ever seen. Along the way Francesca meets Dallie Beaudine, a golf pro who seems to be the one man immune to Francesca's charms.
Wow! What can I say about this book? First of all, if you haven't read a book by the famous SEP, what are you waiting for? Ms. Phillips pens an incredible story. Now, granted this is not my favorite by her, but hot DAMN, what a story! The book starts out a little slow because it sets up Francesca's childhood and even goes into the details of her conception. Really, though it is all still quite entertaining, it's just that I know romance readers and they will want the author to get to the main romance right away. Be patient and you will be rewarded.
Don't worry though, once Francesca and Dallie meet - BAM it is like fire and ice. If you like polar opposites attracting then these two characters are right up your alley. Like cats and dogs these to fight with each other and their first encounter is especially memorable. I give Ms. Phillips and A+ for originality. That is for sure.
Now, this story is a little dated. It takes place in the eighties and some of the male perspective is definitely old fashioned. But these two characters are such strong personalities and the story is so entertaining I let a lot of the character's flaws go by the wayside. One thing that I really enjoyed about the story is that the characters GROW throughout the story. They are not perfect and because the story spans 15+ years Dallie and Francesca have time to learn from their mistakes. I really enjoyed this one. I wouldn't recommend this particular story to introduce people to SEP, but for those of you who have read her and liked her will want to read this one too.