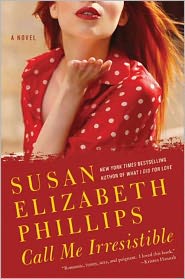 Title:
Call Me Irresistible
Author:
Susan Elizabeth Phillips
Publishing Date:
January 2011
Genre:
Contemporary
Rating:
B+
Sensuality:
Hot
Book Disclosure:
I purchased an eBook from Barnes and Noble for my Nook eReader.
Call Me Irresistible
is the story of Teddy Beaudine who is all grown up. Readers were first introduced to Ted as the ugly, awkward child of Francesca and Dallie from the book
Fancy Pants
. But now Ted is all grown up and is about to marry Lucy Jorik, a woman with whom everyone believes is perfect for Ted, including Ted. Although much to everyone's surprise, Lucy leaves Ted at the Alter and everyone needs someone to blame. That someone just happens to be Lucy's best friend and maid of honor, Meg Koranda. Meg finds herself stranded in the small Texas Town of Wynette with no friends and no money and everyone including the mayor himself, Mr. Ted Beaudine is out for blood.
Once again Ms. Phillips has out done herself with another fantastic novel. Ted and Meg are great characters. I instantly loved Meg. She has this way of seeing straight to the truth of things at least for other people, but when it comes to herself she has always felt like she never measured up. In
Call Me Irresistible
she learns exactly what she is capable of, just how strong and smart she is and realizes she has plenty of self worth. She is the perfect counterpoint for Ted whose success comes so easy to him. His whole life he has been nothing but the golden boy. For once in his life, Meg is his first glimpse at having to work for something.
The drama of the town, Meg's presence and the difficulties she goes through in order to learn her lesson are all extremely griping and entertaining. I could hardly put the book down. I couldn't wait to see what outrageous thing would happen next. There is great dialogue, wonderful characters and an exciting conclusion. I loved it and would recommend it to fans of SEP or contemporary romance.