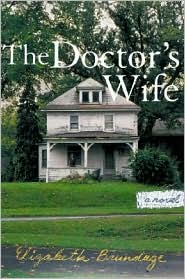 Title:
The Doctor's Wife
Author:
Elizabeth Brundage
Publishing Date:
2004
Genre:
Suspense
Rating:
B
Sensuality:
Warm
Book Disclosure:
I borrowed a copy from the library. This was a the February book choice for my book club.
In
The Doctor's Wife
the lives of four people intertwine which leads to a cataclysmic conclusion. Michael is an OB/GYN who has a very good practice, but when asked to help out a former friend with an abortion clinic, he chooses to help. He becomes a target of a Christian group that has been harassing the clinic. Annie, his lonely and neglected wife finds refuge in the arms of a once famous artist, Simon. Simon's wife Lydia suspects the affair.
First off,
The Doctor's Wife
is not exactly a romance, although the relationships between two couples is the focus of the book. I found myself very intrigued by the story. The words and phrases the author uses paints quite a picture, sets quite a setting. The mood of the overall story comes across as very gloomy and tragic. I like that the author starts at the ending first and then works back to the beginning. It is a technique that really catches the readers' interest.
For me, I found the story very well written. I thought that the author had a certain way with words and phrases which really drew me into the story. The characters were very well portrayed, enough so that even though there is clearly a bad guy there are also shades of grey with all of the characters. All the characters made mistakes but I felt they all were also redeemable. In my book group not all of us agreed on the likability of the characters. Some of us felt that certain actions were not redeemable. We all seemed to agree that the ending left certain questions unanswered and wondered if the author wrote another book or if another book was forth coming. As far as I know, none has been written.
The book is not one that I would have chosen to read if not for the book club. However, once I started the story I was completely immersed in the characters. I am enjoying the book club. It is good to get exposure to books I might not normally read.