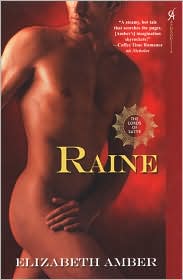 Title:
Raine
Author:
Elizabeth Amber
Publishing Date:
2008
Genre:
Historical/Erotic
Rating:
C-
Sensuality:
Burning
Book Disclosure:
I received a free copy at the 2010 RT Book Lovers Convention.
Raine
is the second book in Elizabeth Amber's The Lords of the Satyr series. Three brothers have been tasked with finding the Fairy King's daughters and marrying them to keep them safe from harm. Raine the second brother is already scarred from an unsuccessful first marriage that failed because of his ravenous sexual appetite. Needless to say he is definitely reluctant when it comes to finding the King's daughter. He finds her in Venice, Italy. Jordan has been raised as a man. She is the most unusual person because she actually has both male and female genitalia. When Raine sets eyes on her Jordan can't believe that a man can look at her as a woman when most of her life she has only been known as a man, especially when deep down inside intrinsically she knows she is a woman regardless of her mysterious sexuality.
I must admit when I first heard about this book I was intrigued. I mean who wouldn't be a little bit curious about a female character that has both a vagina and a penis! I went into this book knowing that it would be outrageous. Knowing that, this book did have its moments when it came to ridiculousness, but I didn't feel that Jordan's sexuality was one of them. What I had a problem with were the so called "bad guys". I just hate it when the bad guys get a lot of page space in a book. That is exactly what happened in
Raine
and I couldn't stand to read the demented ravings of the enemy. In this case there wasn't just one but two.
I did like Jordan's character and her internal struggle with whether or not she was a man or a woman. There were facets to her personality that suggested she enjoyed playing both parts. I was disappointed though with the conclusion to the story. Jordan and Raine have a major confrontation at the end of the book and I don't feel like things were resolved between them satisfactorily. I felt that Raine owed Jordan a huge apology because of that fight and it never came. The final sex scene seemed overly gratuitous when I would have liked to see them work through some of their earlier conflicts. I will give Ms. Amber kudos for her imagination though!