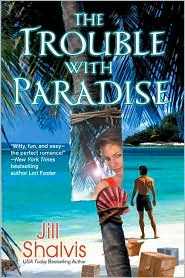 Title:
The Trouble with Paradise
Author:
Jill Shalvis
Publishing Date:
2007
Genre:
Contemporary
Rating:
B-
Sensuality:
Hot
Book Disclosure:
I purchased a used copy at a book store.
Dorie Anderson's life is just not turning out as great as she had hoped. She is at a dead in job in the retail world, when really what she wants is to be a fashion designer. Then consider her love life, or lack of in any case. All in the blink of an eye Dorie is on her way to Fiji on a cruise with not one but two hunky men who have caught her eye. Things turn sour when the yacht ends up in a terrible storm leaving them shipwrecked. At least she has sexy doctor, Christian to tend to her needs.
The Trouble with Paradise
is not a terribly deep story. If you are looking for something simple and cute to pass the time then this is the book for you. Dorie is a sweet heroine who has a tendency to stumble her way into things. She is a very klutzy heroine, but she has luck on her side. She may not know it, none-the-less.
I liked the premise of the story. Girl looking for adventure and romance finds more than she can handle when her vacation boat ends up shipwrecked. I thought that more time would be spent on the island. It doesn't actually happen until two/thirds through the book. There is a little bit of complication because one of the crew members ends up missing and the characters don't know if it was foul play or not. That mystery was a bit distracting from the romance between Dorie and Christian. Also, I never understood why Christian kept pushing Dorie away when he was obviously drawn to her. Overall this was an easy read and was a nice way to pass the time.