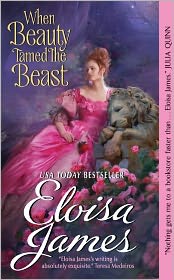 Title:
When Beauty Tamed the Beast
Author:
Eloisa James
Publishing Date:
February 2011
Genre:
Historical
Rating:
A
Sensuality:
Hot
Book Disclosure:
I purchased a new copy for my Nook eReader from Barnes and Noble.
When Beauty Tamed the Beast
is the second book in Eloisa James Fairy Tale series. *You do not need to have read the first book in the series to read this one.* When Miss Linnet Thryne finds herself utterly and truly ruined, her father and aunt concoct a plan to wed her to Piers Yelverton, Earl of Marchant. Linnet doesn't seem to have much choice in the matter and meekly goes along with her family's wishes. The only problem is that Piers is one of those very grumpy, cantankerous men and only a truly astonishing woman will be the one to capture his heart. Imagine his surprise to find Linnet on his doorstep with her shining beauty. But that is not the only thing that captures his attention.
Wow. Can I just say, wow!! This book completely blew me away. I loved everything about it. This is my third Eloisa James novel and so far I have loved everything she has written. This may just be my favorite so far. I absolutely adored everything about Linnet and Piers. At first I was a little worried that Linnet wouldn't have what it takes to capture Pier's heart. He is such a beastly man with a horrid temper. His intellect is outstanding and I was worried that Linnet would be to mild mannered for him and that he would walk all over her.
It turns out I was wrong and just needed to let the story unfold at its own pace. The dialogue between Linnet and Piers is fantastic. Ms. James is a master at dry humor and snide witty comments had me in stitches. Then the reader also gets the added bonus of a secondary love story between Pier's parents. I loved that they get a second chance at love. In addition the ending of this story is so completely moving and beautiful. I was up late at night because I could not put the book down. I love the unexpected twist to universal tale of Beauty and the Beast. I highly recommend this one!!! If you have not tried Eloisa James yet, what are you waiting for? This is the perfect place to start!!