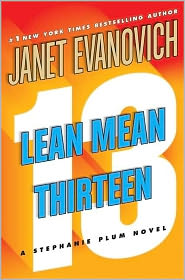 Title:
Lean Mean Thirteen
Author:
Janet Evanovich
Publishing Date:
2007
Genre:
Mystery
Rating:
B+
Sensuality:
Subtle
Book Disclosure:
I listened to this book on audio from a copy I obtained from my library. I also have a strips copy in by TBR pile.
Lean Mean Thirteen
is the thirteenth book in Janet Evanovich's Stephanie Plum series. Stephanie Plum is a Bounty Hunter. This time she and the gang are involved with a missing person case. It just so happens, that Stephanie's ex-husband Dickie Orr has gone missing and it looks like foul play is involved. The Jersey police suspect Stephanie might have something to do with it since she was the last person seen with him and she beat him up and threatened his life. Both Ranger and Joe are helping to protect Stephanie as the real bad guys start targeting her.
Mostly this review is going to focus on the fact that I listened to this book, rather than read it. I have to say that I absolutely adored the narrator (at this moment her name has slipped my mind). I just loved her interpretation of Lula and Grandma Mazur, favorite characters of mine in the series. When she would talk as Lula it sounded just like I pictured she would sound. The attitude and comedic timing of the lines was awesome. Of course, let's not forget the star of the show Stephanie. I also liked the way she did Stephanie's voice too. It was really fun to listen to.
I felt like Janet Evanovich got back into the groove with
Lean Mean Thirteen
. The last two books felt more serious and less comedic than her earlier books and I thought with this one she went back to her old writing style. I thoroughly enjoyed it and I think I will be looking forward to listening to the rest of this series as audio books instead of reading them. If you are looking for a book to listen to on audio, look no further. This one was fun!