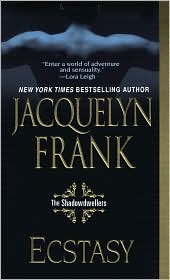 Title:
Ecstasy
Author:
Jacquelyn Frank
Publishing Date:
2009
Genre:
Paranormal
Rating:
C+
Sensuality:
Hot
Book Disclosure:
I received a free copy at the 2009 Romantic Times Book Convention.
Ecstasy
is the first book in a new spin-off series by Jacquelyn Frank. Ashla Townsend finds herself in a post apocalyptic world after she wakes up from a fatal car crash. She is the only living person until she finds two huge warrior men fighting one another in a department store. Trace, a shadowdweller is surprised that the beautiful human woman can see and hear him. In the shadow world no human should be able to. Strangely enough, Trace and Ashla form a unique connection even though they both may be in danger with a traitor among his people.
Ecstacy
is my first Jacquelyn Frank novel. I found the book to be inconsistent at times. The first part of the book was fairly interesting and had my complete attention. As I continued reading, the pace would slow, pick up, slow down etc. It seemed that a lot of the book would be internal monologues from either Trace or Eden and that is when the pace would slow down for me. I liked it when the action was taking place. When that was going on I really liked the book. When Trace or Eden were overly thinking things and rambling on in their heads is when I would lose interest.
I liked the world that Jacquelyn Frank created. It was unique and interesting. I just wish she would have focused on it more than she did. I think that if there would have been less internal dialogue and more action, I would have enjoyed this book more than I did. I liked the characters, both Eden and Trace. I feel that I want to give Ms. Frank another try. I may go back and try one of her Nightwalker novels.