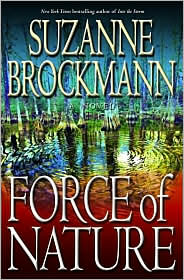 Title:
Force of Nature
Author:
Suzanne Brockmann
Publishing Date:
2007
Genre:
Romantic Suspense
Rating:
B+
Force of Nature
is Suzanne Brockmann's tenth book in her Troubleshooter series. Private detective Ric Alvarado, along with his new receptionist Annie Dugan, stumble into a dangerous situation when they take a new case for a client. What they thought was a cut and dry missing person case turns into something more sinister with mob and terrorist dealings. Ric and Annie team up with Jules Cassidy and the FBI on a high profile case to stop a dangerous al-Qaeda terrorist from entering the United States via Gordon Burns, the local mob boss.
Annie and Ric have known each other since they were eleven and fifteen respectively. Secretly, they have been in love with each other. Ric has quit the police force and opened up his own private detective agency. Annie has just recently had her best friend die of cancer. She was living in New England but moves back down to Florida to get away from the memories. She takes a job at Ric's agency thinking she is his partner, when he thinks she is more like his receptionist. Annie doesn't want to be a receptionist and sit behind a desk all day pushing papers. To say Ric and Annie don't see eye to eye would be an understatement. They are constantly at each others throats. Really, their bickering is just a front to hide their true feelings for each other. While most of the time this was funny to read, sometimes it got a little tedious. One thing that I really like about them as a couple though, is that they always talk their problems out. There are no big misunderstandings between them.
The second story arc in this book is between Jules Cassidy and Robin Chadwick. Jules and Robin started their story arc in Hot Target. They have a history together, but haven't seen each other in years. Their relationship is so bittersweet. They love each other so much but Robin has a slew of problems. He is an actor and doesn't want to come out of the closet for fear it will ruin his career. He is terribly lonely and drowns his sorrow in alcohol. He won't admit he has a problem and that he is an alcoholic. Jules knows Robin is bad news, but he can't help who he loves. As bad as Robin sounds, I still can't help but like him. He is a very charismatic guy, and very likable. He makes some terrible choices that ultimately end up hurting him and those he loves.
This book is action packed with plenty of suspense. The pacing is fast and doesn't let up.
Force of Nature
is another solid book in the Troubleshooter series.