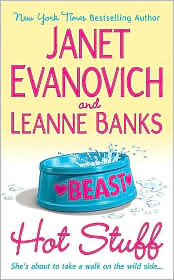 Title:
Hot Stuff
Author:
Janet Evanovich and Leanne Banks
Publishing Date:
April 2007
Genre:
Contemporary
Rating:
B+
Sensuality:
Sweet
Cate Madigan is used to constantly having her loving Irish Catholic family setting her up with random men for dates. She is the youngest in her family and the only unmarried one. She might be used to it, but she hates it. The dates have never lived up to her expectations. She is twenty-six and a student trying to get her teaching degree. She figures if she can handle four brothers, then a classroom of 8 year olds should be a piece of cake. When Cate is not in school she is tending bar at a local pub. Recently she noticed a cute patron Kellen McBride. He hits on her and it is hard for her to resist his charm. Cate finds herself in a bit of a tight spot when her transvestite roommate leaves town and sends her a guard dog. Strange phone calls and all sorts of antics ensue.
This is a really cute, light fluffy story. It is just what a reader needs after reading a draining emotional book. It's a very quick read with fun characters. Cate is so sweet and charming you can't help but like her. Kellen is your typical male, but he easily worms his way into your heart. Cate's friends such as Julie and Shannon add fodder to this fun heartwarming story. Julie especially livens it up with tales from the "deep south". I was cracking up at some of these stories.
This is short, cute read, and I don't really have anything else to add. It was just what the doctor ordered after having read a very dark disturbing novel. I would definitely recommend this when you are between books and don't want anything to heavy, but just want to pass the time. It flows very nicely, with a lively cast of characters sure to charm the most crusty of hearts.
Here is what others had to say:
Natuschan
Reading Adventures