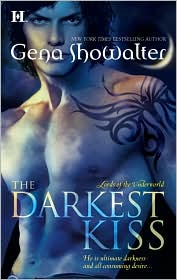 Title:
The Darkest Kiss
Author:
Gena Showalter
Publishing Date:
June 2008
Genre:
Paranormal
Rating:
C
Sensuality:
Hot
The Darkest Kiss
is book two in Gena Showalter's Lords of the Underworld series. The Lord of Death, Lucian has been ordered by the Gods to kill Anya, the goddess of anarchy. Unfortunately for Lucian, Anya's soul is one he can't seem to force himself to take. He finds himself attracted to her zest for life and of course, her sexy body. If that is not enough, the warriors are dealing with the fanatical Hunters who wish to imprison them while they look for Pandora's Box. Once the Hunter's get their greedy hands on the box, they plan to kill the warriors and lock the demons back into the box.
I enjoyed Anya's personality. She has a great sense of humor and she brings out the best in Lucian's so serious, I'm-a-stick-in-the-mud, personality. He really needed to lighten up and Anya manages to do that for him. She has her quirks, with her constant need for chaos. She manages to control her impulse to wreck havoc by stealing. This is pretty minor to some of the damage she has caused in the past. She finds herself drawn to Lucian in a way that no other man has been able to do. Only, sadly for her, Lucian wants nothing to do with her and fights his attraction pretty much the whole book.
This is where I got annoyed. Too much time of the book was spent with the characters mental lusting after each other. This is a sore spot with me and something I really can't stand. I much prefer action or dialog to a character droning on and on about how they feel. Urrrrhhhhhaaa. It really gets my goat.
I will say that the world building is coming along nicely. There is a brief continuation of part of the plot from book one involving Danika and Reyes and Aeron. Paris begins his story as well. I must say as brief as these story arcs were, I was totally hooked on what was happening. I already have the next book
The Darkest Pleasure
, which is Reyes and Danika's story. I just hope the mental lusting is toned down a lot.
Here is what others had to say:
The Good, The Bad and The Unread
Dear Author
Reading is Sexy