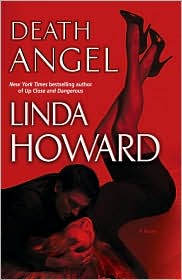 Title:
Death Angel
Author:
Linda Howard
Publishing Date:
July 2008
Genre:
Romantic Suspense
Rating:
B
Sensuality:
Hot
I will try and give a brief synopsis of the book without giving too much of the plot away.
Death Angel
, for me is told in two parts. Part one begins with Andrea (Drea) Rousseau being given by her mobster boyfriend, Rafael to an assassin for a sexual liaison as a payment for services rendered. This liaison is to happen only once and no longer than five hours. To say Drea is stunned is an understatement. She can't believe how easily Rafael gives her away to another man. Since taking a hit to her pride, Drea robs Rafael and goes into hiding. I think I am going to leave the summary here as to not give any spoilers. The second part of the story is about Drea trying to make a better life for herself and to be a better person. She no longer wants to have anything to do with the shallow woman she once was.
First off, let me say that I am a HUGE fan of Linda Howard. I love her writing style and her super hot alpha heroes. However, her last few releases have been hit or miss for me. I was hoping that
Death Angel
would be more of a hit than a miss, but I wasn't holding my breath. I am happy to say that with this book, it seems that Ms. Howard is back on track. Drea was a very unique heroine in that the reader gets to see her journey from a shallow, selfish woman to a genuinely kind person. Along the way she falls in love with an assassin Simon. Simon is very unique too. He toes the line between good and bad leaning more towards the dark side of life. He has an epiphany as well, but it is not as well defined as Drea's.
One of the things that I love about Howard's writing is her ability to make her love scenes so sexy. I think major reason for this is the hero's powerful focus on the heroine. Simon is no exception. He is very intense and whenever he is focused on Drea it's as if the rest of the world has fallen away.
I think that the balance between Drea's attempt to hide her identity and the romance of the story were a little uneven. I felt that more attention was paid to the details of Drea's escape than her relationship with Simon. However, the scenes when Drea was with Simon totally rocked. I felt the good more than outweighed the bad.
Death Angel
has a darker tone, but it was a book that I thoroughly enjoyed.
Here is what others had to say:
The Good, The Bad, The Ugly
The Book Binge (Casee)
The Book Binge (Holly)
Thrifty Reader
Dear Author