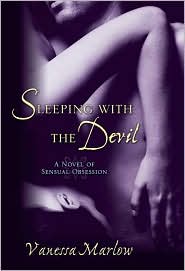 Title:
Sleeping with the Devil
Author:
Vanessa Marlow
Publishing Date:
April 2008
Genre:
General Fiction
Rating:
C
Sensuality:
Burning
First off, let me make sure that I state up front that this book is
NOT
a romance. I am sure some of you are scratching your head, asking yourselves why I am reviewing this book then, since this is a romance book review blog. Well, you see, the author Vanessa Marlow is actually a pseudonym for the well known romance author Cheryl Holt. Wendy the Super Librarian had reviewed this book and it intrigued me so that is why read the book and since I try to review every book I read I went ahead and reviewed this one too.
Naive, young Meg White meets Jordan Blair, a sexy, wealthy man and is unable to resist his charms. She dumps her current boyfriend Sandy, leaves her meager possessions and what few friends she had behind to go live with Jordan. What ensues is the story of Meg's complete, painful degradation at the hands of Jordan, told in first person from her point of view.
This is a very dark story. Holt leaves nothing to the imagination. She slowly, in painstaking detail shows the downward spiral of Meg's relationship with Jordan, from the blissful newfound love and attraction to mental and physical abuse; to the point that Meg thinks she is loosing her mind.
Cheryl Holt does a really good job of setting the mood for this story. Right from the beginning, the book has sinister overtones and it is no surprise to the reader that Jordan is not a normal, sane man. This was one of the issues that I had with Meg. Several times at the beginning of the story when she first meets Jordan, several red flags go up. Does she ever heed her gut instinct and listen to what her heart is telling her? No, she ignores it and this is why she ends up in the situation she is in. I had a hard time feeling sympathetic to her. Actually, that is not true, what Meg endured at the hands of Jordan was just horrible. I can't even fathom it.
Jordan was just creepy. Oh my goodness. I was definitely terrified of the man. For those of you who want to know, yes, there is a positive solution to Meg's problem. Would I call it a happy ending? No, I would not. That is another thing I had an issue with, was the lack of closure at the end of the story. I needed more. I guess I will have to leave it at that without heading into spoiler territory.
Here is what others had to say:
The Misadventures of Super Librarian
Ramblings on Romance