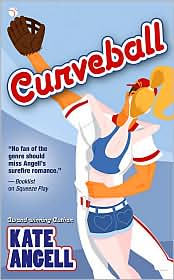 Title:
Curveball
Author:
Kate Angell
Publishing Date:
2007
Genre:
Contemporary
Rating:
B
Sensuality:
Warm
Curveball
is the second book in Kate Angell's Richmond Rogues Series. The Rogues are a major league baseball team and
Curveball
is a fun romantic comedy of three romances that revolve around Psycho, Romeo and Chaser, Rogue teammates better known as the "Bat Pack". Psycho develops a relationship with his interior decorator, Keely Douglas, when she unexpectedly shows up on the front porch of his historical colonial home. Romeo has it bad for Emerson Kent, the sports reporter for the local newspaper whom he accidentally mows down in a sideline brawl. Chaser finally notices the girl who he has lived next door to since they were kids is now a woman.
Curveball
is different from most romances that I have read in that instead of featuring one hero and heroine there are three. Each romance gets about the same amount of billing time in the book. My favorite thread was the romance between Psycho and Keely. Psycho is from the wrong side of the tracks. He grew up with practically nothing and made something of himself by sleeping, eating and breathing baseball. He right away notices how threadbare Keely's clothes are and how desperately she needs this job as his interior decorator. On the outside he is abrasive and cutting, but on the inside he is a big softy and he definitely has a huge soft spot for Keely.
I had a little trouble getting into Romeo and Emerson's romance. Emerson is very controlling and stand-offish. She continually holds Romeo at bay and I just didn't like her personality. It seemed to me that Romeo was too good for her and I didn't understand what about Emerson appealed so much to him. Chaser and Jen's romance was a friends to lovers theme and I always enjoy reading about that.
Curveball
was a very fast read. The characters were enjoyable and the plotting was simple. The drawback to having three romances was that I didn't get to spend enough time on each one. I really enjoyed Psycho and almost wish that he could have gotten his own book. Really, the author is just scratching the surface of these characters. The writing and storyline was definitely good enough to draw me in and make me want more. I would recommend this book to those who want something light and funny when they need a quick read. At just under 300 pages, I was able to read this in less than a day. You might want to bring it to the beach!
This review was part of
Keishon's TBR Challenge
. This month the theme was friends to lovers or unrequited love. You can view all the participants of this challenge
here
. Be sure to check it out!