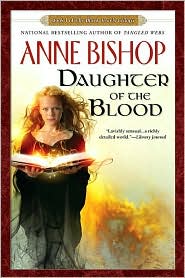 Title:
Daughter of the Blood
Author:
Anne Bishop
Publishing Date:
1998
Genre:
Fantasy
Rating:
A-
Sensuality:
It varies. For the H/h I would say mild/kisses. There are however, various scenes of disturbing sexual acts with other characters. Sometimes, it is plainly described other times the reader is left to their own imagination.
Daughter of the Blood
is the first book in Anne Bishop's Black Jewels Trilogy. It tells the story of a young girl Jaenelle Angelline, who will grow up to become the most powerful witch the world of Terreille has ever known. She actually is Witch. Untrained in the most basic craft, Angelline seeks out the High Lord of Hell for training. Intrigued by her vast power and open innocence, the High Lord welcomes the distraction and hope Angelline brings to his realm. There are two other powerful warlord princes who have waited for centuries for Jaenelle. In their bleak, tortured existence Jaenelle has been the only hope keeping them alive and sane.
Daughter of the Blood
is a fascinating read. It is cleverly crafted with plenty of hidden pockets of information, with innuendos and double entrees. The most noticeable are the names of the main male characters. Saetan is the High Lord of Hell and his two sons the warlord princes, Daemon and Lucivar. The story is set in an alternate world where the women rule and the men are subservient. They ride horses and use knives instead of guns, so it is not a modern world, although they do have indoor plumbing.
The world building is detailed and intricate. More importantly, the reader is not inundated all at once with information. As the story unfolds, so do the pieces of the puzzle the reader is given. Slowly, piece by piece the whole picture begins to form. This is uniquely done by, instead of narrating the story through Jaenelle's eyes, it is narrated through mainly Saetan and Daemon's point of view.
This makes everything about Jaenelle a mystery; what she knows, where she goes, why she does the things she does. The reader gets to experience Jaenelle through Saetan's and Daemon's eyes. Jaenelle is very intriguing. She holds more power than any other Blooded person, including the High Lord himself. She is constantly surprising him and everyone else with what she can do. She is amazing and alluring, yet something very dark lies within her and it is not until the end of this book that the reader understands the cause of that darkness. The clues are there, so an astute reader will pick up on them.
Daughter of the Blood
is true fantasy, not romance and ends with certain problems unresolved. Jaenelle's story will continue on in the second book
Heir to the Shadows
. Be prepared to want to have the second book on hand right away, as to avoid a wait!
Here is what others had to say:
All Booked Up
Bookwormom
Hypatia's Hoard of Reviews
Giraffe Days
Better Off Read
Monroe with a Twist