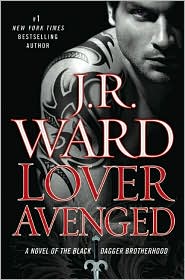 Title:
Lover Revenged
Author:
J. R. Ward
Publishing Date:
May 2009
Genre:
Paranormal
Rating:
C+
Sensuality:
Hot
Lover Revenged
is book seven in J. R. Wards Black Dagger Brotherhood Series. For a brief synopsis of this series and a reading order, check out my series post on the
Brotherhood
. The Reverend or Rhevenge runs the night club Zero Sum in Caldwell. He is half vampire-half sympath. He injects himself with dopamine to suppress the sympath side of himself - his murderous, raging, mind-controlling self. He frequently needs to go to the clinic for a steady supply of dopamine. Most of the nurses are afraid of him, except for Ehlena. Rhev is drawn to Ehlena because of how pure and innocent she seems, which is so different from the tainted life Rhev lives.
I just finished
Lover Revenged
last night. I have to be honest here... I couldn't really get into it. I think it was Rhev. I sometimes struggle with books where the characters are less than human, ie they have demon in them or in this case sympath (and sympaths totally creep me out by-the-way). I mean he was a pimp, a drug dealer, a murderer and to top it off a half-psychopathic lizard creature. One of those things I could have handled, maybe two. But all of them together was too much of a stretch for me. Plus, for some reason with the mohawk, the big coat, fancy designer suit and cane, I kept picturing him as the rapper Flavor Flav
with the over-sized gold watch around his neck and gold caps on his teeth. Okay, so because of Rhev I had a big disconnect, but I will say that I still thought the romance between Ehlena and Rhev, was good. I especially liked the scenes with them talking over the phone. The scene where they are intimate the first time is a great one too. I just wish I would have liked Rhev more.
Onto the John Matthew saga... Well, I have always liked John Matthew and his buddies. I don't really get his interest in Xhex though. I think JR wanted to make John seem more edgy, so she created this angst with Xhex to achieve it. I am not sure how I feel about it yet. She definitely hooked me with the unresolved ending surrounding these two. Lash was also featured and I don't know why, but I like him. I mean, I don't like him per say, but I like what he brings to the stories. He is completely sick and twisted, but dare I say it, he entertains me. I don't know why, but I was amused by his relationship with the Princess. It seemed fitting with their similar personalities.
Wrath and Beth (first book,
Dark Lover
) play a prominent role in the plot of
Lover Revenged
. Wrath and Beth are having trouble with thier relationship and they have some things they need to work through. I thought it was good to revisit with these two and see how their relationship has progressed.
Here is what others had to say:
Lovin' Me Some Romance
Maryse's Blog
Book Binge
Babbling About Books, and More
Anna's Book Blog
Alpha Heroes
Michelle's Book Review Blog
Darque Reviews
The Way I See It
Dear Author
Penelope's Romance Reviews
Romance Novel TV
Happily Forever After
Pearl's World of Books
Anyone who comments on this post will automatically be entered to win my copy of
Lover Avenged
! Contest will end Tuesday May 26th at midnight. Winner will be announced the next day. The contest is open to anyone!