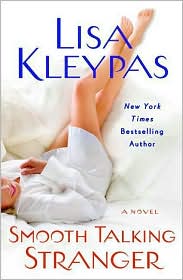 Title:
Smooth Talking Stranger
Author:
Lisa Kleypas
Publishing Date:
April 2009
Genre:
Contemporary
Rating:
B
Sensuality:
Hot
Ella Varner has carved out a niche for herself after cutting off family ties from her mother and sister. After two years of not speaking to either of them, Ella gets a call from her mother that changes her life. Her sister Tara has abandoned her one week old baby and her mother wants Ella to come and get it or she is taking it to social services. Ella doesn't want to lose the the baby so she takes responsibility for him on her shoulders. She is determined to get the baby's father involved, as well. Once she suspects that Jack Travis is the father, she confronts him about it.
After reading
Blue-Eyed Devil
and
Sugar Daddy
and loving both of those books to pieces, I was really looking forward to
Smooth Talking Stranger
. I'll admit that my expectations were pretty high. Let's be honest here, they were tremendously high! I don't want to give the impression that I didn't like
Smooth Talking Stranger
, because I did, very much so. I started reading it at 11:30 at night and next thing I knew it was 2:00 in the morning! But, I didn't think it was as good as
Blue-Eyed Devil
or
Sugar Daddy
.
Jack Travis is just the type of hero that I love in my romance books. He is strong and smart and confident enough to know what he wants and go after it. He doesn't let a smart woman scare him away. After taking one look at Ella, he knows she is exactly the right woman for him. In no uncertain terms he bulldozes his way into her life, whether she likes it or not. Oh yeah, baby! *waggles eyebrows*
Where the book stumbled a tiny bit for me is with Ella and her problems with her family. In
Blue-Eyed Devil
and
Sugar Daddy
, much of the focus of the book is centered on the heroine and her growth throughout the story. As a matter of fact,
Blue-Eyed Devil
dealt with spousal abuse very heavily. With Ella, she too suffered from a tramatic childhood. She never really confronts these problems head on and they get pushed to the side as an after thought. Even the resolution of the book was very quickly done and not very satisfactorily at that.
Here is what others had to say:
Avid Book Reader
I Just Finished Reading
Musings of a Bibliophile
The Book Smugglers
Dear Author
Ramblings on Romance
Stacy's Place on Earth
The Happily Ever After...
Good Books, Bad Books & Everything in Between