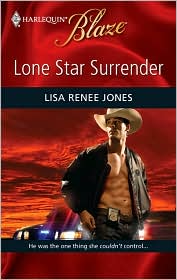 Title:
Lone Star Surrender
Author:
Lisa Renee Jones
Publishing Date:
January 2009
Genre:
Contemporary
Rating:
B-
Sensuality:
Hot
Constantine Vega has been working as a cop deeply undercover for a powerful drug lord for last few years. Finally, he has acquired enough dirt to put him away for a long time. Before he exposes his cover, he needs to make sure that the lawyer for the state, Nicole Ward isn't crooked. Constantine agrees to meet covertly with her and during their meeting they end up on the run. Constantine's cover is blown and the drug lord is onto them. Nicole and Constantine will have to hole up together in order to stay safe.
The problem I seem to have with category books is that they are just too short for my tastes. It really is a catch 22, because I picked this book specifically because it was short.
Lone Star Surrender
flowed smoothly along and was an enjoyable read. Constantine and Nicole were pleasant characters, albeit somewhat predictable. I will admit, I was a little surprised that the first sexual encounter between Nicole and Constantine took place on page 25, after they had barely met. I wasn't quite expecting that level of steam, but then again, this is a Blaze.
I think for those readers who like category romances will enjoy this story. Those readers who tend to shy away from shorter novels because they need more depth won't exactly find that here. But if readers are ever in the mood for a quickie that is entertaining with some steam then I would recommend it.