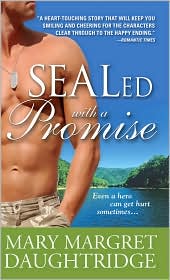 Title:
SEALed with a Promise
Author:
Mary Margret Daughtridge
Publishing Date:
April 2009
Genre:
Contemporary
Rating:
A-
Sensuality:
Warm
Mary Margret Daughtridge has done it again with her second novel
SEALed with a Promise
. I read her debut novel
SEALed with a Kiss
last year after I won it from
Book Binge
and I fell in love with Jax and Pickett. Jax and Pickett are now getting married and Caleb "Do Lord" Delaude and Emmie Caddington are their best man and maid of honor respectively. After Caleb observes Jax and Pickett's happiness with each other, he can't help but feel a little jealousy he never thought to expect. He finds himself interested in Emmie even though she is a mousy, plain little thing. But after he aids her in a wedding cake switcheroo he discovers there are unique interesting layers to Emmie that captivate him.
There are so many things that I love about Ms. Daughtridge's writing. First and foremost are her strong characters. The are fully fleshed out with lots of layers and depth. The reader is fully immersed in their heads. She completely walks you through their thought processes and learning how a SEAL thinks is absolutely fascinating. Caleb and Emmie are very smart and tend to think outside the box. For most of their lives they have felt like outliers in society. Emmie hasn't had many relationships with men and is more logical when it comes to relationships. When she starts to feel attracted to Caleb she doesn't even realize that is the emotion she is feeling. It is really great to read about her discovering this attraction and dealing with it.
I also love the sense of connection I get when I read the scenes with Emmie and her family or Caleb and his SEAL brothers. Daughtrigde is able to capture a family dinner perfectly. I can sense the chaos of so many different personalities together and the baggage that comes with being around family, the people who think they know you and yet sometimes don't. You can sense the loyalty and love among these people too. The dialogue is fabulous. The characters actually TALK about their issues and it moves the story beautifully.
I did think the delivery with the ending was a little clunky compared to the rest of the story. The pacing and the passion all flowed so smoothly. Then when the big reveal happens at the end the book stumbled a bit. But this is just a tiny little detail in the big scheme of things. I really enjoyed reading
SEALed with a Promise
. It is a fun, clever and emotionally gripping story. Mary Margret Daughtridge is an author to keep on your radar.
Here is what others had to say:
Romance Love Passion
Long and Short Reviews
Alpha Heroes
Random Romance Reviews
Confessions of a Romance Book Addict
Book Reviews by Bobbie
The Book Girl
This book can be purchased in print from
Amazon
.