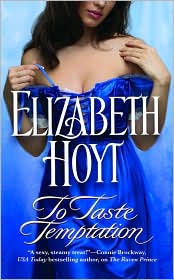 Title:
To Taste Temptation
Author:
Elizabeth Hoyt
Publishing Date:
May 2008
Genre:
Historical
Rating:
B-
Sensuality:
Hot
To Taste Temptation
is the first book in Elizabeth Hoyt's Legend of the Four Soldiers Series. To learn a little more about this series visit my
Series Sunday post
. Samuel Hartly has made a name for himself by expanding his Uncle's trade business in Boston. He travels to London in the hopes of securing an exclusive partnership with a new pottery company founded by none other than Mr. Wedgwood.
Secretly there is another purpose to Samuel's visit to London. He hopes to find the traitor that caused the slaughter at the battle of Spinners Fall during the French and Indian War. Samuel was a soldier that fought in that battle, which haunts him to this day. In London, he moves in next door to the widowed sister of one of his fallen comrades, Lady Emeline Gordon. Under the pretext of needing Emeline's help to instruct his sister in the proper ways of comportment, he insinuates himself into London Society where he can fox out the traitor.
To Taste Temptation
is a story about opposites attracting. Emeline and Samuel are about as different as the come. Emeline is from the upper crust of London Society, was married to an Earl. She at all times expects herself and others to act with the utmost decorum and propriety. She is flabbergasted and annoyed by Samuel the first time she meets him. She thinks him an uncouth barbarian who can barely contain his baser animal urges. Samuel goes out of his way to not conform to society's wishes. He could care less what anyone thinks of him. He feels a man is defined by what he accomplishes, not by how he dresses.
I hate to admit it, but I did not like Emeline. At first I could accept the way she acted, always arguing with Samuel - snipping and griping at him. As the story continued though, I was hoping to see more growth of her character. She had some issues that kept her from allowing people to get close to her - thus her prickly disposition, but towards the end I was hoping for some likability. I never got it. Samuel, on the other hand, was attracted to her sharp edges and that was the biggest reason for him to pursue her. He liked sparing with her and because of it Emeline felt she could be herself. So, in that aspect I felt the attraction was believable.
I really did like that Hoyt did not gloss over the atrocities of war and how they can affect men differently. She explored Samuel's emotional recovery after the effects of the war. This gave quite a bit of depth to Samuel. I would have liked to have seen more of this with Emeline's character. It's possible I would have been more sympathetic to her. Which brings me to the ending. It was rushed. Everything seemed to get wrapped up all to quickly. Emeline who had been so standoffish the whole book finally gets some clarity in the last few pages. It was all to pat for my tastes.
Here is what others had to say:
Royal Reviews
Dear Author
Riley's Reviews
AnimeGirl's Bookshelf
The Book Smugglers
Book Binge
Ramblings on Romance, Etc.
This book can be purchased in print and kindle format from
Amazon