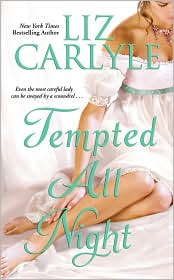 Title:
Tempted All Night
Author:
Liz Carlyle
Publishing Date:
March 2009
Genre:
Historical
Rating:
B
Sensuality:
Hot
Phaedra Northampton is on a mission to bring back her maid's sister, whom she believes has been mixed up with some shady people. As Phaedra begins her investigation she witnesses the death of a man. This man is a possible Russian spy and Tristan Talbot, Lord Avoncliffe is investigating his death. He eventually involves Phaedra in his investigation. Tristan has a reputation as a wastrel and a rake and he is only investigatign this murder as a favor to his father who is on his deathbed.
Tempted All Night
is my first Liz Carlyle book. I have heard a lot of good things about her writing and I jumped at the chance to get this book when AAR classified it as a DIK (Desert Isle Keeper). In other words a great read and one worth keeping. So my expectations were fairly high from all the praise circling around Ms. Carlyle. While I did find her writing to be exceptional with fully fleshed out characters, I did think the story and the characters were a tad mundane.
The big standout for me was Lady Phaedra. She is a good woman who has had some unfortunate things happen to her. It is very easy for the reader to be moved by her past. And I loved how her past was revealed in slow pieces, foreshadowing a larger reveal halfway through the book. It keeps the pacing moving and the reader curious.
Tristan has his own set of problems to deal with as his father is dying and they haven't ever gotten along well. There is an animosity between the two that never really gets completely resolved and this saddened me for Tristan. As far as his rakehell ways... ho hum,
bor-ing
. I wasn't impressed and could have done without that aspect of the story.
When it is all said and done, I really wanted Phaedra to get her happy ending and boy does she ever. There is an absolutely, lovely epilogue at the end of this story. Will I give Liz Carlyle another try? Yes, you can count on it. Are there any that you would recommend?
Here is what others had to say:
All About Romance
Dear Author
Romance Reviews by Alice
This book can be purchased in print or kindle format at
Amazon
.