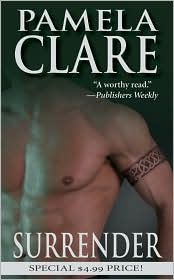 Title:
Surrender
Author:
Pamela Clare
Publication Date:
2006
Genre:
Historical
Rating:
B+
Sensuality:
Hot
Iain MacKinnon has been forced into service for the British army during the French and Indian War taking place in the New World. His family left Scotland after they were exiled as Jacobite's. Since he was a young boy he has farmed and learned how to live off this wild and fierce land. His tracking skills are unmatched by many and when shooting, he never misses a target. As he is spying on the French troops he comes across a woman in danger of being raped and killed.
Annie was once a Lady from a noble Scottish family and has been indentured in the new world. The family who bought her indenture are murdered by the French while she is in the barn milking a cow. She runs for her life but doesn't get far. Iain sees her and going against military orders he rescues Annie, because he would not be able to live with himself otherwise. He fights his attraction to Annie, but this is one battle he will not win.
The whole time while reading this book, I kept thinking to myself that this would make a great movie. There is a lot going on in this book. You have the war between the British and French. There are intense battles being fought. There is a conflict between Iain and his rangers with the official British army and their leader Lord Wentworth. Annie has a mysterious past. She dresses like a poor uneducated woman and yet she can quote Shakespeare and has superb table manners. Of course you also have a wonderful love story between a rough Scotsman and a delicate Lady.
Iain is larger than life. He is the fastest, strongest and smartest among the men. He is capable of just about anything. He is an exemplary hero and lives with the strictest code of honor. Sometimes this walked a fine line in being too exceptional in that it becomes cheesy. But, I admit I like cheese, so this book was a lot of fun to read. One of my favorite characters was Lord Wentworth. Ms. Clare did an excellent job of creating an interesting opponent for Iain. Wentworth, wasn't necessarily a bad man, but he made bad choices based on his own personal wishes. He could definitely be described as selfish and morally ambiguous at best.
In summary, I found
Surrender
to be a highly entertaining read and recommend it for fans of historicals who are looking for something other than those that take place in the typical regency period.
Here is what others had to say:
Leontine's Book Realm
Love Romances & More
Leslie's Psyche
Heather's Books
The Way I See It
This book can be purchased in print or kindle format from
Amazon
.