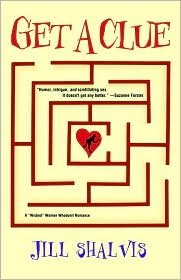 Title:
Get a Clue
Author:
Jill Shalvis
Publishing Date:
2005
Genre:
Contemporary
Rating:
B+
Sensuality:
Hot
Breanne Mooreland has had a pretty bad day. It starts out with her fiancée standing her up on her wedding day and ends with her stranded in a mountain lodge during a snowstorm, only to find that her honeymoon suite is already occupied by a very naked man. He is a man who has enough testosterone to quickly make her forget her new mantra, "no more men."
Cooper Scott recently quit his job as a vice cop and is desperately in need of a vacation. Preferably one where he can sit back and relax, maybe meet a snow bunny or two. What he finds though is a dead body, not your normal run of the mill hotel staff and a guest who he can't seem to keep his hands off of.
I have to say I really enjoyed this story. It was a light, quick read that had me amused at the antics within. It sort of had a "Clue" feel to it, but not too much that I was annoyed. Shalvis got the humor just right for me. She was able to take man-hating Breanne and make her come across as vulnerable, instead of overbearing and mean-spirited. Cooper was also a great match for Breanne because he didn't play games, always told it like it was and, well, he was sexy as all get out! Also, I got a kick out of him calling her Princess. I think he hit the nail on the head with that one, and instead of him finding it annoying, he thought it was sexy and endearing. Even though this story only takes place over a matter of a few days, I felt that their relationship was believable.
The other secondary characters were a nice addition to the story too. There is also a bit of a mystery, but not enough to make this a romantic suspense. I will definitely be looking into Shalvis's other works. She has quick wit and a breezy style that makes for an enjoyable, easy read. She is definitely one to watch for.
Here is what others had to say:
The Book Binge