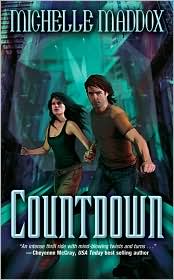 Title:
Countdown
Author:
Michelle Maddox
Publishing Date:
2008
Genre:
Futuristic
Rating:
A
Sensuality:
Hot
Book Disclosure:
Free from the RT Book Lovers Convention
Kira wakes up in a cell to find herself handcuffed to a wall. She can't remember how she got there. She isn't alone. A man is also handcuffed to the wall opposite her. Kira soon finds out quick enough that she and Rogan have become unwilling participants in a game called the Countdown. They have to pass six levels by facing certain tasks. The alternative is death.
Countdown
had me on the edge of my seat. From the very beginning, the reader is dumped into the middle of the action and it never lets up until the very end. Countdown in unlike any other book I have read. I really enjoyed the unusual premise, where the two lead characters have to perform feats and their very lives depend upon it. The game has six levels which get progressively harder to pass, both morally and physically. If a contestant looses the penalty is death. Kira and Rogan immediately have to learn to trust each other. Even though this book takes place over the course of a few days, the seriousness and intensity allows the two characters to bond more closely in a short period of time and have it be believable.
Countdown
is just an exciting heart pounding thrill ride. It really leaves the reader on the edge of their seat. I felt the emotional component was balanced really nicely with the action. The romance never felt forced despite the short time frame in which it developed. I can't say enough about this book. It was an exciting, fun read.
Here is what others had to say:
Babbling Book Reviews
Book Binge
Scooper Speaks
Janicu's Book Blog
All About Romance
The Good, The Bad, The Unread
Shameless Aymless's Thoughts on Books and Life
This book can be purchased in print or kindle format from
Amazon