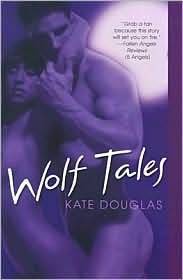 Title:
Wolf Tales
Author:
Kate Douglas
Publishing Date:
2006
Genre:
Paranormal (Erotic)
Rating:
C+
Sensuality:
Burning
Wolf Tales
is the first book in Kate Douglas' erotic Chanku series. The Chanku are a race of people who can shift into a wolf because of special dietary foods. They are polyamorous, meaning that they have sex with all members of the pack. Alexandria, Xandi for short, has a bad accident at night in a snow storm. When she wakes up she finds herself in the arms of a very virile man. It's not until the morning after does Xandi realize that Stephan is half wolf and half man. Stephan expects Xandi to be disgusted by him, but to Stephan's surprise Xandi wants to help Stephan return to his normal self.
Wolf Tales
is a very sexually explicit book. Anything and everything goes in this book. Just so you know, there are muliple bed partners. If that kind of thing squicks you out, then
Wolf Tales
won't be for you. Personally, I found it really refreshing that the characters embraced their sexuality - quirks and all. They were very free about sex as it is a big part of their lifestyle. Sexuality is embraced and no one is made to feel shame for their voracious appetites.
Being an erotic novel, much of the plot obviously focused on sex. I would have liked to have seen more character development between Stephan and Xandi. I felt like I was being told of their relationship development instead of being shown through actual scenes in the story. However, the concept sure is an interesting one and certainly entertaining. I would advise not to look for a deep meaningful read with this one, though.
This book can be purchased in print or kindle format from
Amazon