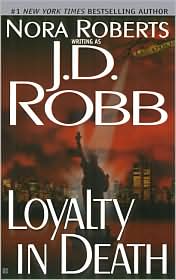 Title:
Loyalty in Death
Author:
JD Robb
Publishing Date:
1999
Genre:
Mystery
Rating:
B
Sensuality:
Hot
Book Disclosure:
This was an audio book I borrowed from the library.
Loyalty in Death
is book nine in JD Robb's In Death series. In this book Eve is tracking down a terrorist group, whose plot is to take out popular tourist attractions in New York City. Also a couple of dead bodies have turned up and Eve has been assigned their case. Meanwhile, Peabody's brother is visiting New York for the first time and he gets tangled up in one of the murder investigations.
First let me mention a few things before I go straight into the review. I listened to this book over the course of a couple of weeks. Things were really spaced out and so this review is going to be not as detailed as I would like. Second, it has been a couple of years since I read an In Death book, so that may have influenced my review too.
This is a standard In Death book. There is a clever mystery to be solved and I have to admit that it really is quite clever. There are several pathways going on in the book and they all eventually lead to the same conclusion. Eve and Roarke are still on wobbly ground working through their relationship. They hit stumbling blocks every now and again. The fun part for me was Peabody and McNab finally coming together. I have to say that was my favorite part of the book.
I might as well mention that the audio book was rather well done. Most of the characters voices were very distinct and it was easy to follow along with which character was speaking. I wasn't crazy about how the woman did Roarke's voice. She did have an Irish accent, but it wasn't exactly how I thought he would sound. I know. So silly, but it's true.
This book can be purchased in print or kindle format from
Amazon
.