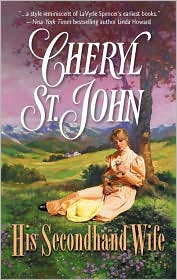 Title:
His Secondhand Wife
Author:
Cheryl St. John
Publishing Date:
2005
Genre:
Western
Rating:
B+
Sensuality:
Warm
Book Disclosure:
I won this book from a contest at Leslie's Psyche.
Katherine's husband left her to go find work. Weeks turn into months and he doesn't come back home. Noah his brother comes one day to announce that her husband has been killed and that he will take her to his ranch. Soon Noah realizes that Kate is pregnant and offers to take care of her and the baby. Kate having no other options accepts this very generous offer from the silent scarred man.
His Secondhand Wife
is a very sweet romance that brings two people who have always felt like outcasts together and gives them a sense of belonging. Noah is physically and emotional scarred from an accident that happened when he was a boy. It left him disfigured and so he withdrew from people. He never goes into town and he completely avoids any kind of social activity with the townsfolk.
Katherine too was an outcast in her town. Katherine's father left her Mother when she was a young girl. She and her mother were very poor and did laundry for the wealthier town people. Katherine, unlike Noah very much wants to be a part of society. She has a very optimistic outlook on life even though she has been dealt a less than pleasant life. Slowly Katherine and Noah come to know and appreciate one another. They each become the family that the other never had.
Noah and Katherine complement each other very well. Katherine is very talkative and sees the beauty in the most simple of things. Noah hardly talks at all, but is content to just sit there and listen to Katherine's chatter. He sees the world through her eyes in a new, fresh way. As if he is seeing it for the first time again. Cheryl St. John has done a wonderful job of telling a simple yet beautiful story.
Here is what others had to say:
The Good, The Bad, The Unread
Rosario's Reading Journal
Renee Reads Romance
This book can be purchased in print by
Amazon