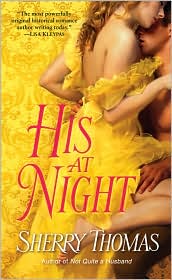 Title
:
His at Night
Author
: Sherry Thomas
Publishing Date
: May 2010
Genre
: Historical
Rating
: A-
Sensuality
: Warm
Book Disclosure
: I purchased a used copy.
Lord Vere to most of society is a bumbling idiot. Only a select few know he really is a very industrious spy for England. He is on a case where he suspects that Edmund Douglas has nefarious dealings in the diamond industry. Vere and his compatriots invent a scheme to gain them entry into Douglas's home. Douglas's niece Elissande Edgerton sees Lord Vere as an opportunity to get away from her possessive and disturbing Uncle. She takes matters into her own hands and creates a situation that will compromise them both.
His at Night
is my first book written by Sherry Thomas. I have heard so many wonderful things about this book and Sherry Thomas in general that I thought this might be a good place to start. I was very glad that I did pick this one up as the writing is just wonderful! I can easily recommend that if you want to read Sherry Thomas,
His at Night
is a great place to start.
His at Night
is a book that drew me into the story that by chapter four when Vere and Ellie meet for the first time I was hard pressed to do anything put keep my nose pressed to the book. Vere and Ellie have created a persona that they hide themselves behind, but they both do it for different reasons. These facades really complicate their budding relationship and become a huge obstacle that they will have to overcome. There really is a lot going on not just in terms of plot but also the complexity between the characters. I actually feel that I could benefit from another reading of the book to pick up every detail.
Sherry Thomas has an amazing capacity to create great characters. Her depiction of Ellie is balanced so well between desperation and strength. It really is a fine line. It would be so easy to hate Ellie, but the way she was written I felt myself understanding her reasons. The same goes for Vere. The role of the bumbling fool could have gotten out of control but Sherry Thomas keeps things from being foolish or farcical. I really enjoyed
His at Night
. Sherry Thomas writes an entertaining story with intricate characters.
Here is what others had to say:
Dear Author
The Good, The Bad, The Unread
Love Romance Passion
Dr. J's Book Place
The Geeky Bookworm
Book Junkie