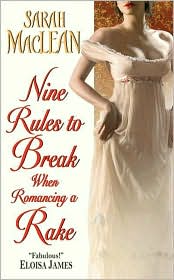 Title
:
Nine Rules to Break When Romancing a Rake
Author
: Sarah MacLean
Publishing Date
: April 2010
Genre
: Historical
Rating
: B+
Sensuality
: Hot
Book Disclosure
: I received a free copy at the RT Book Convention.
Calpurnia Hartwell finds herself firmly on the shelf and one of the tons most reputable ladies. Absolutely no scandal has ever graced her as she has always held the up most propriety. Yet Callie doesn't want to have lived her life never really having lived, having experience all the wonderful, sinful things there are to experience. She creates this list of things she must experience to add excitement to her life. On the top of her list is be "kissed passionately". After imbibing a little bit too much sherry Calpurnia finds herself outside the house of Lord Gabriel St. John, with whom she has had a crush on from afar for the past ten years.
Nine Rules to Break When Romancing a Rake
is Sarah MacLean's debut novel. It was chosen as a RT's book of excellence pick and has gotten favorable reviews on the blogosphere. I am on a historical romance kick and thought I would try out this new author. I was very glad I did give MacLean a chance as I felt that this was a very enjoyable book.
I thought the book started out a little rocky with the first chapter. It read more like a prologue and at first I thought Callie was a young girl who was obviously immature. Then the book quickly jumps ten years and she is practically an old maid. Quite a leap but the writing is very good and it all works out. Callie has sort of allowed herself to be put on the shelf even though deep down inside she really is lively and fun. Those who are closest to her know this but not many others do either. Then as she spends more time with Gabriel his jaded and cynical nature finds Callie's zest for life refreshing and appealing. She essentially makes him see life through her eyes and he finds himself really living again.
This book's main focus is the romance between Callie and Gabriel. There is no mystery to solve. Callie and Gabriel go through a transformation of sorts and this book is their journey. There are supporting characters, such as Callie's brother and Gabriel's sister that add additional insight to the story. And the sinfully handsome Gabriel has a twin brother who I foresee getting his own story. I definitely will be checking into her next novel.
Here is what others had to say:
Book Binge
The Good, The Bad, The Unread
Breezing Through