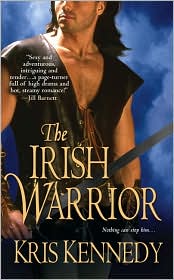 Title
:
The Irish Warrior
Author
: Kris Kennedy
Publishing Date
: June 2010
Genre
: Medieval
Rating
: B+
Sensuality
: Hot
Book Disclosure
: I purchased a new copy.
Senna de Valery, an English woman who has journeyed to Ireland to make a business deal with Lord Rardove, finds herself in a terrible situation. She believed that she would be selling her prized sheep for their high quality wool, but instead she finds that the man intends to marry her and have her make the recipe for a legendary dye. Meanwhile deep in the dungeons of Rardove's castle he has imprisoned Finian O'Melaghlin an important emissary to the king of Ireland and a great warrior. Senna helps Finian to escape Lord Rardove with the hopes that Finian will help her to return to England.
I really enjoyed Kris Kennedy's debut novel
The Conqueror
and was looking forward to reading her next medieval. These days good, meaty medieval books are few and far between.
The Irish Warrior
was another solid, enjoyable read. Thank you Ms. Kennedy!
A large part of the focus to
The Irish Warrior
is this special legendary dye that only a handful of people know how to create. Senna happens to be the daughter of one such person who knew the secret recipe. I found the legend quite interesting and it helped to make the story unique. Reader's will note how much research the author did to make the legend come alive and seem plausible.
The romance between Senna and Finian is very volatile. I could feel the flames licking the pages of this book. These two had great chemistry. Most of the romance takes place with Finian and Senna on the run. Fans of cabin or road romances will enjoy this story. I also liked that Senna and Finian never played games with each other. Senna, although unversed in the ways of love was not afraid to be herself and accept her own sexuality as it was awakened by Finian. She was honest and open with her feelings and likewise Finian was upfront, as well. Most of the conflict came from outside factors. I'd definitely recommend this book. It's well written with an interesting plot and enjoyable main characters.
Here is what others had to say:
Book Binge
The Season for Romance
Wendy the Super Librarian