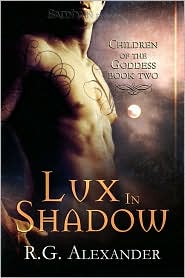 Title
:
Lux in Shadow
Author
: R.G. Alexander
Publishing Date
: 2009
Genre
: Paranormal Erotic
Rating
: B-
Sensuality
: Burning
Book Disclosure
: I purchased a used copy.
Lux in Shadow
is book two in R.G. Alexander's Children of the Goddess series. Lux Sariel is haunted by the death of his former lover who was murdered during an attack on his people. With the help of Arygon he must find a woman Sylvain who has the power to save his people. Her life is in danger and Lux and Arygon must find her before the Shadow Wolf does. When Arygon and Lux find Sylvain they discover that the three of them are mates, which only complicates the situation more.
I picked up this book because my good friend Dana really likes R.G. Alexander and I haven't ever read anything by this author before. She had recommended this series. When I was at the used book store the other week, I picked it up on a whim. It was a mistake to read this book before reading
Regina in the Sun
, Children of the Goddess book one. I was struggling to understand who the different factions were in the book. I didn't completely understand the world building.
I will say even though the world building was complicated I liked that there is a feeling of Native American mythology to the story. It put a different slant to vampires and werewolves. I enjoyed the characters' interactions with each other and the whole threesome plot didn't seem too contrived. It worked within in the context of the story. I will have to go back and read the first book to see if certain gaps in the storyline are filled in. The overall plot in the book is easy to understand, yet the world building just felt incomplete.
Here is what others had to say:
Love Romances Reviews and More