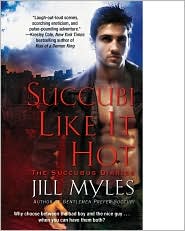 Title
:
Succubi Like it Hot
Author
: Jill Myles
Genre
: Paranormal
Rating
: B-
Sensuality
: Hot
Book Disclosure
: I purchased a used copy.
Succubi Like it Hot
is the second book in Jill Myles' The Succubus Diaries series. Jackie Brighton a newly turned succubus who narrates the story from first person point of view. It's not enough that Jackie is struggling with being a succubus, which means she has to have sex every few days or she will eventually shrivel up and die, but she has also recently been cursed. For some reason whenever she touches a human they fall asleep right at her feet. A mysterious man keeps following her and it seems she needs sex more and more frequently. Jackie travels down to New Orleans to see if she can find another succubi who can help her remove the curse.
I found
Succubi Like it Hot
to be a fun read. Jackie has a likable personality. She is completely down to earth, which makes her easy to relate too and she also had a wicked sense of humor with lots of sarcasm. She definitely makes for a great narrator.
As a romance reader, I do struggle with the fact that Jackie is currently juggling two men in her lives. She has Zane, her vampire maker and Noah, her fallen angel both falling over themselves to be with her. At times Jackie comes across as more than a little selfish. Some of it is out of her control as she is a succubi after all, but some of it seems just a part of her personality. There were a few instances when I was actually annoyed with Jackie always thinking of herself first.
I do enjoy the writing and the world building. For a paranormal, it has a more campy feel to it. Although, certain parts of the story are heavier than expected given the overall lighthearted writing style. I definitely plan on reading more in this series to see where things are headed. I am enjoying the journey so far. I enjoy Jackie and her escapades.
Here is what others had to say:
The Book Lush
Stacy's Place on Earth
Smexy Books
Babbling About Books and More
Book Binge
Breezing Through