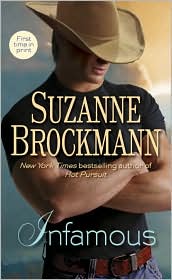 Title
:
Infamous
Author
: Suzanne Brockmann
Publishing Date
: August 2010
Genre
: Romantic Suspense
Rating
: A
Sensuality
: Hot
Book Disclosure
: I purchased a new book and even had it signed by Ms. Suz herself!
Infamous
is a stand alone book. Yay, for those of you who want to try Ms. Brockmann and don't know where to start. I'd definitely recommend starting here.
Alison Carter is a history buff and professor back in Boston. She writes a book centering around a famous gunslinger and sheriff. A famous producer reads her book and makes a movie according to the legend. He hires Allison to be his historical advisor for the movie. While on the set, Allison mistakes A.J. for an extra. While she is reprimanding him for wearing briefs (which were not worn in the Wild West) A.J. has an ulterior motive for wanting to meet Allison. See, his grandfather was the infamous gunslinger the movie represents as a murderer. But A.J is being haunted - I use the term loosely because the grandfather has no malice - but wants A.J to set his story straight. So A.J. travels to the movie set to meet with Allison to share the real story.
I am just going to tell you right now, I absolutely loved everything about this story and I feel like gushing about it. Seriously, Suz absolutely rocks!! I just wish she would write faster, LOL! Fans of Suzanne Brockman will still see her signature style - deep, well developed characters, fantastic dialogue and a fly by the seat of your pants plot. What more could a reader ask for? Lots of passion, well not to worry, Suz delivers there too!
There is a lot going on in this book. You have the present day romance between A.J., a carpenter from Alaska, whose tall and buff and is great with his hands *wiggles eyebrows*. You have Allison who is a no nonsense gal with a winning smile and down-to-earth outlook on life. These two are completely explosive when it comes to chemistry. Hang on dear reader, things aren't so simple. Both come with heavy baggage that must be dealt with before the happy ever after can be achieved. Not to worry, Suz mixes in plenty of light hearted moments to even out those ball-busting ones.
Too make things unique and change things up a bit, a ghost is thrown into the mix. This ghost is not hokie in anyway. It is actually very interesting how Suz tied actual historical accounts from the ghost and his past love through her diary. Then to make things even more on the edge there is a suspense plot that puts Allison's life in danger. Trust me, there is a lot going on, but is all brilliantly concocted. I highly recommend this book to all different kinds of readers - fans of contemporary, romantic suspense, Suzanne Brockmann and westerns won't want to miss out on
Infamous
.
This book can be purchased in print or kindle format from
Amazon