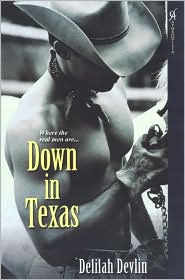 Title:
Down in Texas
Author:
Delilah Devlin
Publishing Date:
2008
Genre:
Contemporary (Erotic)
Rating:
B
Sensuality:
Burning
Down in Texas
is an anthology of three stort stories written by Delilah Devin. All three of the stories are centered around two ranching families the McDonoughs and the Dermotts.
Wearing His Brand
In this first story Lyssa and Brand Tynan have grown up together. Lyssa has lusted after Brand for years but he has always treated her like a little sister, since she is his best friend's sister after all. Brand has been tasked with looking after Lyssa while her big brother Mac is off on a military mission. Brand comes across Lyssa trapped in barbed wire fencing after an accident and things begin to heat up between these two on the shared horse ride back home.
I really enjoyed this first story. Lyssa and Brand already have an established relationship and the pace moves fairly quickly. I love that readers get to just jump right into the story. Lyssa is a spunky character and isn't afraid to maneuver the situation to suit her needs. I also liked that this story easily set up the next story in the book and that the smuggler plot was carried on through till the end of the book.
Slow Ride
Daniel Tynan ten years ago worked as a farm hand for the Dermott's. As a young man he found Maggie Dermott to be the woman of his dreams and to his shame he found himself lusting after an older, married woman. He answers an employment ad to once again find himself back at Dermott's ranch when Maggie is now a widow and in desperate need of help to keep the ranch afloat.
Slow Ride
was probably my least favorite of the book. Maggie has quite a bit of baggage that she needs to overcome before she can be truly comfortable with a relationship with Daniel. I felt that in such a short period of time her acceptance of their relationship was too quick. However, it was probably the more compelling and emotional read of the book.
Straight up Soldier
Suki Reece is running from an abusive ex-boyfriend. She is hiding out in a cabin her good friend Tara helped her secure. Tara, worried about Suki, asks Mac McDonough to check in on her and make sure she is safe. Mac is recovering from a bad leg wound on his latest military mission. When he gets to the cabin he finds that Suki can hold her own.
Straight up Soldier
is a slight change up, now the hero is a military man instead of a cowboy but he is still just as alpha as the other two heroes. Suki can go toe to toe against this big man and brings him to his knees a time or two.
The nice thing about these stories is they are short and sweet. The men are alpha heroes who like to take control in the bedroom and make sure their woman stay safe. The stories are fun and entertaining, although, there are similarities between the men's personalities and the fun that is had in the bedroom. If you like the first story, than I can't see why you wouldn't enjoy the rest.