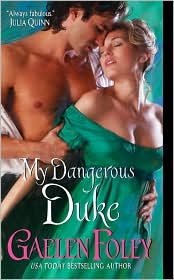 Title:
My Dangerous Duke
Author:
Gaelen Foley
Publishing Date:
July 2010
Genre:
Historical
Rating:
B
Sensuality:
Hot
Book Disclosure:
I purchased this book used.
My Dangerous Duke
is the second book in Gaelen Foley's Inferno Club series. Kate Madsen is abducted from her home by a band of thieves and offered up to Rohan Kilburn as a gift. Rohan is known by most as "The Beast". Those who look upon his ferocious countenance fear his wrath. Kate is taken to his estate, drugged and against her will as a peace offering of sorts. Fortunately for Kate, Rohan might be a Beast, but he also is intelligent and easily realizes that Kate is much more complicated than she seems. Her mysterious origins, once discovered, lead Rohan to make a tough decision when it comes to their future.
I have always enjoyed Gaelen Foley's writing. One of my favorite historical romance books is
The Duke
which was written about ten years ago. I read the first book in this series and I wasn't too crazy about it. However, I enjoyed
My Dangerous Duke
more than I did
My Wicked Marquess
. First of all, I enjoyed the setting and characters. The book sets a very gothic feel to the mood by residing in the gloomy winter time off the cliffs of Cornwall. Kate is taken to a dark and dismal castle complete with dungeons. Rohan is a Beast of a man with a surly disposition and plenty of scars, both mental and physical.
I wouldn't necessarily say
My Dangerous Duke
is breaking any new ground with this story. Yet, I found the characters enjoyable and the writing entertaining and fast paced. There were a few times I was annoyed with Rohan and his tendency to jump to conclusions where Kate was concerned. Fortunately, he quickly comes to his senses and realizes Kate is not hiding anything from him. What you see is what you get with Kate. She really is a sweet and likable heroine. I also enjoyed how Kate and Rohan work together at the end of the book to solve the mystery pertaining to Kate's heritage. I found
My Dangerous Duke
to be a fine historical romance, one certainly worth giving a try if you haven't ever tried Ms. Foley before.
Here is what others had to say: (I seem to be in the minority on liking this one)
A Book Blogger's Diary
Dear Author
Book Chick City
Love Romances and More
My Overstuffed Bookshelf