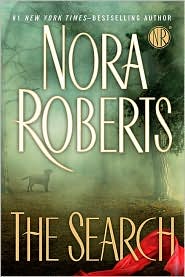 Title:
The Search
Author:
Nora Roberts
Publishing Date:
July 2010
Genre:
Romantic Suspense
Rating:
B
Sensuality:
Warm
Book Disclosure:
I borrowed a copy from the library
When Fiona Bristow was in college she was abducted by a serial killer while out for an early morning job. She was the one woman who managed to escape from Perry, the Red Scarf Killer and managed to put him behind bars for life. Years later Fiona has built up a successful dog training business on Orcas Island. One tough cookie, Fiona has put the past behind her or so she thought until the murders begin again. Fiona with the help of a sexy, grumpy carpenter Simon, struggles to build a relationship while trying to stop a copy-cat serial killer.
Fiona Bristow is a paragon of strength, patience and integrity. She was forced to live through a horrible experience at the hands of a madman and managed to put him away for life. She managed to fight every step of the way and to not allow fear to rule her life. The fact that she is targeted a second time only makes her fight that much harder to keep what she has built for herself. Simon Doyle a grumpy, blunt carpenter with an unruly puppy Jaws, can't help but find himself attracted to her and her strength. Fiona manages to worm her way under his skin no matter how hard he fights the attraction.
Simon was the best part of this book for me. He had some of the best lines in the book because he says what he is thinking without censoring it. Fiona is definitely able to hold her own with the overbearing man. She flings zingers right back at him. Fiona and Simon had great chemistry. However, I did think that these two characters had extremely good control over their emotions, almost too good of control that it seemed a little unrealistic. I would have liked to have seen Fiona or Simon lose that control at some point. It would have made them seem a little more human, imperfect.
The Search
is a very gripping tale and Nora Roberts is always good for a fun reading experience. I can easily recommend it to her legions of fans.