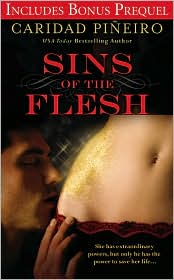 Title:
Sins of the Flesh
Author:
Caridad Pineiro
Publishing Date:
2009
Genre:
Paranormal/Romantic Suspense
Rating:
B
Sensuality:
Warm
Book Disclosure:
I received a free copy when I was at the 2010 RT Convention.
Sins of the Flesh
is the first in a new series by Caridad Pineiro. Mick Carrera has been hired by a cutting edge researcher to find one of his missing patients who he believes murdered his partner. Once Mick is on the case he realizes that things aren't adding up. Caterina, the woman who he was hired to find, is no murderer. She is a very sick woman dying of cancer, only the cutting edge medical treatments she was receiving somehow worked. They worked but not without strange side effects. Mick and Caterina work together to find the real killer.
Sins of the Flesh
is the first book I have read by Caridad Pineiro. She came highly recommended by my good friend Mary. I got this book earlier in the year when I attended the RT Convention. I thought the idea and premise behind this story was very unique and very well done. The reader can tell right away that Ms. Pineiro knows her science.
Sins of the Flesh
has a very "X-Men" vibe to it but with a more medical aspect.
I did struggle with the pacing of the book in the beginning. It took a while for the author to establish the characters and what was going on. Mick and Caterina don't meet for a while. Once they do, things pick up a little. However, if you are looking for fireworks between these two you will be disappointed. Their romance is very sedate and sweet. It actually worked for me. With all the other stuff going on the book it would have been too unrealistic to have Mick and Cat lusting after each other. As a matter of fact, that is a pet peeve of mine that thankfully I didn't have to worry about in this book. I also enjoyed the glimpses of Mick's interaction with his family. Pineiro has a way of capturing the essence of family. I look forward to reading more by her.
Here is what others had to say:
Paranormal Haven