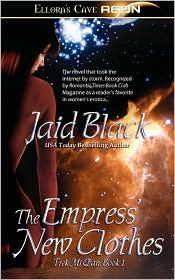 Title:
The Empress' New Clothes
Author:
Jaid Black
Publishing Date:
2002
Genre:
Sci-Fi Erotic
Rating:
C+
Sensuality:
Burning
Book Disclosure:
I purchased a used copy at a bookstore that specializes in trades.
The Empress' New Clothes
is the first book in Jaid Black's Trek Mi Q'an series. Kyra Summers is spending her vacation at a resort that specializes in stress relief and relaxation with her best friend Geris. She is completely clueless that meanwhile, in a galaxy far, far away, the Emperor of Trek Mi Q'an has learned that his queen shall be none other than Kyra Summers. Zor takes a trip to Earth to pick up his destined mate. He finds her outside the resort and whisks her away to his planet. There Kyra must learn the new customs of Zor's world and succumb to his passionate nature.
This book was a lot of fun. It's hokey and over-the-top, but it is also entertaining as all get out. So the theme is a fish out of water. Kyra is taken to another world, existing in another time. It's nothing at all what she is accustomed to and she must learn a whole new way of life. This is the part of the story that I was most interested in and found entertaining.
Since this is an erotic romance there is a lot of sex in this book. The customs on this particular world all seem to revolve around sex. I liked reading about the different customs, but after a while I was bored with the sex. It just seemed like the sex scenes became repetitive. Wash, rinse and repeat. Boooorrring. The entertainment for me came from Kyra finding out the hard way certain customs. That was always good for a laugh. Zor was completely clueless as to what Kyra would accept and not accept as a custom. I actually enjoyed reading this book, but it is no literary classic. If you like Sci-fi and enjoy a good laugh, then you might want to give this one a try.
Here is what others had to say:
Smart Bitches, Trashy Books