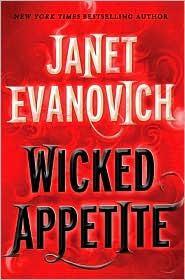 Title:
Wicked Appetite
Author:
Janet Evanovich
Publishing Date:
September 2010
Genre:
Paranormal
Rating:
B
Sensuality:
Subtle
Book Disclosure:
I borrowed a copy from the library.
Wicked Appetite
is the first in a new series by Janet Evanovich. Some readers might be familiar with her character Diesel who appeared in the Stephanie Plum series, the Plum books between the numbers. Diesel a man of mystery heads to Salem Massachusetts to find a woman Lizzie who will help him locate magical objects. But Diesel is not the only person looking for these magical objects, his cousin Wulf is also looking for the objects and doesn't have good intention in his use of them. Trouble seems to follow Lizzy and Diesel has his hands full protecting her.
Wicked Appetite
has a very similar vibe to the Stephanie Plum series. Lizzie narrates the story from first person point of view. Her life starts to get crazy when Diesel walks into the bakery. She becomes the reluctant owner of a one eyed cat, a monkey Carl and she can't seem to dodge a hunky, mystery man. Even her best friend starts thinking she is a witch and tries to cast spells. Of course these spells go awry.
I think that if you are a fan of the Stephanie Plum books then you will like her new series. As far as the romance goes there is no love triangle in this series. Diesel and Lizzie are attracted to each other, but there is a complication that will make a relationship difficult. I foresee this complication as a way for Evanovich to draw out the romance in this series, which could potentially be a problem for romance fans. However, I am willing to give this series another a try, after all the writing is fast paced and funny.
Here is what others had to say:
Book Chick City