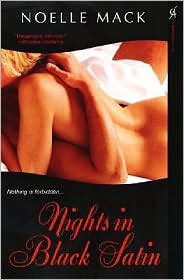 Title:
Nights in Black Satin
Author:
Noelle Mack
Publishing Date:
2007
Genre:
Time Travel (Erotic)
Rating:
D
Sensuality:
Burning
Nights in Black Satin
begins with a young artist, Sarah Ryan who has traveled to Venice to appreciate the history and art of the city. She attends a wild party because a friend gave her the invitation. She meets a mysterious compelling man, Marco who walks her home from the party. The next day they meet and begin a tryst. Marco acquires an old book of spells that Sarah reads out loud from and the next thing they know they are transported back into Venice in the 1700's (although, that is my best guess as to the time period).
I thought the premise of this book was very promising. Venice is a setting that is not used a lot in romances. I love time-travel novels and with the romance of Venice I was very excited about this book. I am sorry to say that it did not live up to my expectations. This first half of the book was actually pretty good. Marco comes across as very worldly and mysterious and Sarah who is young and naïve can't help but be attracted to him. Fortunately for her the feeling is mutual. I liked that after their first encounter they don't end up in bed right away. The time they spend together the first night is actually kind of sweet.
After they travel through time though, Marco takes on a different personality. He seems more selfish and even petulant. Sarah herself began to grate on my nerves because she was just as selfish. For this couple to have a lasting relationship was not at all believable. They never talked or worked out their problems or worries and none of the major issues were ever really addressed, at least not to my satisfaction. Also, there were hardly any steamy scenes in the last half of the book. It just became very boring and it was a real struggle to finish. I don't recommend this book at all.