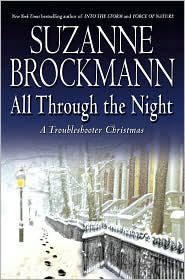 Title:
All Through the Night
Author:
Suzanne Brockmann
Publishing Date:
2007
Genre:
Romantic Suspense
Rating:
B
Sensuality:
Kisses
All Through the Night
is book 12 in the Troubleshooter series. Jules and Robin are getting married. Only, the thing is that nothing seems to be going right. Their old Victorian house has bats in the attic and doorknobs that keep falling off the doors, which in turns leads to someone getting locked in a room and a pesky reporter who wants the dirt on their upcoming nuptials. One thing is clear though – that Robin and Jules are completely head over heals in love with each other. Nothing is going to stand in their way of getting married.
All Through the Night
is such a treat for fans of Jules Cassidy. Since he first appeared in the series in
The Defiant Hero
, he has played a large role in each book. His spunky, fun personality has kept readers wishing and hoping that he finally get his own happy-ever-after. Now that Robin has gotten his act together Jules does. Robin has accepted his sexuality. He has also entered rehab and has been successfully staying sober. He is determined to be the man he wants to be for Jules. Their wedding is so sweet and very touching. Brockmann really sold me that these two will make their marriage a success.
There is also a small secondary romance between a reporter Will Schroder and Robin's assistant Dolphina Patel. This romance was less than spectacular. It is one of those love-at-first-site romances, which I think is a total cop out on Brockmann's part. The twist, in this case, is that Will is forced to make some very horrid choices and ends up hurting Jules and Robin. Dolphina with good reason wants nothing to do with him. This book was really too short to properly develop their relationship.
Here's what others had to say:
Julia's Books Corner!
What Women Read
I Just Finished Reading
Rosario's Reading Journal
My Thoughts on Nothing Much at All
Stacy's Place on Earth
Good and Bad Books
The Good, The Bad, The Unread