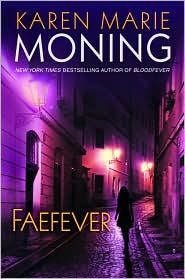 *Note*
I want to state up front that there are absolutely
NO
spoilers in this review.
Title:
Faefever
Author: Karen Marie Moning
Publishing Date: September 2008
Genre: Urban Fantasy
Sensuality: Warm
Rating: A
Can I just say, wow? Wow! This book is amazing! I have been anxiously counting down the days ever since last fall when I read
Bloodfever
, the second book in the Fever series, and I am so happy to say that it did not disappoint! It was freaking fabulous!!!!
Let me start at the beginning for those of you who are not familiar with the series. The fever books are narrated by Ms. MacKayla Lane, aka Mac. She is a young, 22 year old southern girl who worships the sun, lives with her parents, takes classes at the local college and bartends at night. She loves her life. It's simple and fun and that is just how she wants it. Then one day her world came crashing down around her when she learns that her sister Alina was brutally murdered in Dublin Ireland, where her sister was attending college. The police said that Alina was hanging around a bad crowd and that she had stopped going to classes. Mac can't believe that. It doesn't sound anything like how Alina would behave.
Overwhelmed by her grief, and against her parent's wishes, Mac flies to Ireland to do her own investigating into Alina's death. What she finds when she arrives in Dublin changes everything she ever knew about her world and her life. Mac realizes that there are things that go bump in the night; things that can't be explained by any reasonable explanation. She also learns that she has a special power. One that allows her to see those unexplainable things that go bump in the night. This fever series is about Mac's journey in discovering what really happened to Alina. This is a finite series constructed of five books.
Faefever
is the third book. The first two are
Darkfever
and
Bloodfever
.
Moning has out done herself with crafting this world. She slowly over the course of the series reveals the world to Mac and the readers making it a puzzle that we have to fit the pieces together. Moning has done a wonderful job of keeping the reader on edge with giving us answers to some questions and yet somehow still creating the need for more answers to new questions. Moning is able to keep the story feeling believable even though what is happening in the story is truly unbelievable.
Mac herself is the best of heroines. She is completely out of her element. She is a normal girl and one that didn't have any aspirations other than finding a nice southern gentleman and providing her parents with grandbabies and accessorizing her sunny outfits. But when it comes to finding her in impossible situations, she sucks it up and toughs it out. The reader can't help but like her and feel compassion for her. The reader is right there with her through her journey and it's a tough road she has to travel. Her growth and transformation over the story is amazing and one of the best aspects of the series.
This series is fantastic. If you like urban fantasy or even paranormal romance, I highly recommend it. If you don't like the first person point of view, but are intrigued by my review, I welcome you to just jump in and read this book. You will not be lost not having read the first two books. Everything is briefly explained in the prologue. It's a quick read and highly addicting. Mac's voice will suck you in and not let go and after reading this book I vow you will want to go back read the others. Ms. Moning, congratulations on a job well done. This book is everything I could ask for in a great read.