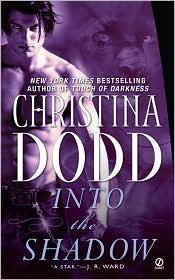 Title:
Into the Shadow
Author:
Christina Dodd
Publishing Date:
July 2008
Genre:
Paranormal
Rating:
B
Sensuality:
Hot
Karen Sonnet is overseeing the construction of one of her father's adventure resorts in the Himalayan Mountains. The mountain she is working on is legendary. The local people swear it is Evil and no one who has tried to conquer it has ever succeeded. Early on during the construction process, while trying to clear the site, they discover the body of a child. While Karen investigates the body there is an avalanche. Warlord has been watching Karen ever since she arrived on the mountain. He can't seem to get her out of his head. He was watching her when the avalanche started and rescues her.
If you have been following this series,
Into the Shadow
is the third book. Each of the books are connected by an overall story arc, but they each can stand alone. The Wilder family has been cursed. To break the curse each one of the four children needs to find one of four icons that have been scattered across the world. In order to find the icon, each child has to find their one true love and they will lead them to the icon. If all four icons are not found then their father is doomed to live for eternity in hell. Did I mention that time is ticking and the father doesn't have long to live?
Adrick is Warlord and he left home when he was seventeen. For fifteen years he has made his way in the world and never looked back. His family believes him to be dead and therefore the curse can't be broken.
The first part of the book when Karen is in the Himalayas was very good. I couldn't turn the pages fast enough. There is nothing politically correct about Warlord. He takes what he wants and doesn't care about the consequences. He is very primitive, but that is what I liked about him. Sometimes I like my heroes bad and Warlord was definitely bad. Not that he would ever physically harm Karen, but he steals and kills without remorse.
The second part of the book is where it faltered a bit. I really liked the passion of the first part of the book. The second part is more like Warlord trying to be tame and make up for his behavior from the first part of the book. Plus, there is a big gap of time between the first and second part. The reader is told in flashback form what happened during this time. Because of this style of storytelling the book seemed slightly off balance. This was overall still an enjoyable read and I am very excited about the next and final installment of this series.
Here is what others had to say:
Dear Author
Bookaholic's Review
The Good, The Bad, The Unread