Kev and Win totally stole the show in
Mine till Midnight
. Need I say more?
Here is a summary:
Win has been an invalid ever since she suffered a near-fatal case of scarlet fever. Merripen is a Romany Gypsy who was taken in by the Hathaway family when he was a boy. He has always kept his fierce passion for Win a secret, believing a romantic relationship would never be possible.
But Win goes to an exclusive clinic, far away from Merripen and the rest of her family, and makes a remarkable recovery. And when she returns two years later, a changed woman, the explosive passion between these long-denied lovers threatens their family, their future, and even their lives . . .
Excerpt
I have really enjoyed McKenna's books in the past. She is a guilty pleasure read for me.
Ulitmate Weapon
is Tamara's story. I wonder how Mckenna is going to pull this off, because Tamara is unlike any of her previous heroines. It should be interesting.
Here is the summary:
Tamara's a bad girl with a dangerous difference. Enter a terrifying, sexually charged world of thrilling suspense where love is the riskiest game of all . . .

THE FIRST CUT IS THE DEEPEST

Covert operations are what Val Janos is all about. The man is mysterious and sinister, and lethally hot. Only Tamara can understand the strange intensity that drives him to win at all costs—and only she can match it.

Val has one weak spot : Imre, the frail old man who befriended him when he was a scared, hungry kid abandoned on the streets of Budapest. But Daddy Novak knows about Imre, and Imre's head is on the block if Val doesn't deliver Tam up to Novak's tender mercies . . .

A white-hot passion explodes when Tam and Val get too close. They both have too much to be afraid of, too much to hide. And now, for the first time, too much to lose . . .
Excerpt
The Chosen Sin
is the first book in a new vampire series by Anya Bast. I have read Anya Bast's Witch series and have really enjoyed them. I figured I may as well give her new series a try too. This book releases October 7th.
Here is the summary:
In this sensuous and lust-filled otherworld, the Chosen are vampires fighting for their very existence.

It is Daria's destiny to become one of them…

Daria Morris is a special forces agent with one obsession: to wreak vengeance on the brutal vampire who nearly destroyed her. Now she's finally about to get her chance, on one condition. She must become something she detests: a vampire.

Her fate rests upon one man's lethal bite. His name is Alejandro Martinez, and he can help her infiltrate a highly guarded group of the Chosen. But Alejandro is also a distraction for Daria. Because thirteen years ago, they shared a scorching night of passion neither has forgotten.

Now, while Daria struggles against her newfound bloodlust, the two must slip into the shadows to bring a monster to justice—even as their desire threatens to consume them. But under the cover of night, they'll discover that it's the darkness within that may stand in the way of their hunger for retribution…
Excerpt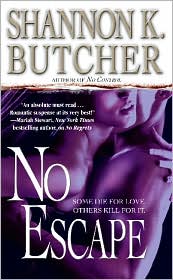 I have read the first two books in this romantic suspense series. I thought the first one
No Regrets
was fantastic and the second one
No Control
was average. I am anxious to see how
No Escape
rates.
Here is the summary:
Teacher Isabelle Carson is grief-stricken, angry, and scared. Three of her childhood friends have died. The police say they're suicides, but Isabelle knows they would never, ever take their own lives. Her past binds her to every victim, and she knows it's only a matter of time before the killer comes after her. Only one man can help her now, the only man she's ever trusted, the man who saved her so long ago . . .

No Place to Hide

For Grant Kent, Delta Force vet, just being near Isabelle brings back old memories and desires, and stirs longings he'd rather deny. Yet he can't deny the real terror in her eyes, or resist the thought of holding her again. But even as their friendship begins to blossom into a passionate affair, a killer continues his deadly rampage, and plots his next move, the "suicide" of Isabelle Carson.
Excerpt