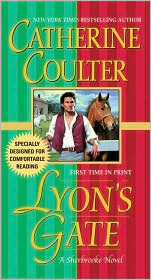 Title:
Lyon's Gate
Author:
Catherine Coulter
Publishing Date:
2005
Genre:
Historical
Rating:
D
Sensuality:
Warm
Lyon's Gate
was a big fat disappointment. It is the ninth book in the Sherbrooke Bride series. After reading
The Sherbrooke Twins
, I was excited for Jason's story. Unfortunately, it was a real let down. Jason Sherbrooke has dreamed of starting his own stud farm and plans to buy Lyon's Gate. However, when he and his brother James venture there to look at the property, they meet a rather outrageous young lady Hallie Carrick. There she is on top of a mean horse in britches and a shirt, she can barely hang on to and she wants to start her own stud farm. She plans to have Lyon's Gate for herself and thinks she can outsmart Jason. It seems they are pretty evenly matched.
The problem I had with this book was that it was sooooooo boring. The beginning starts out really slow because the reader has to slog through numerous characters from previous books and even some that belong in an entirely different series. I happen to know this because I have read the other series. It all seemed unimportant to the story and just bored me to tears. Finally Jason and Hallie meet and even their meeting is underwhelming. Nothing really stands out.
There really isn't anything wrong with Hallie and Jason per say, it's just that nothing about their lives is really gripping and intriguing to the reader, at least this reader. Most of the time I was bored out of my mind and my mantra was to hurry up and finish it so I can start on another book. Plus, I was hoping something would capture my attention. I am sorry to say, that nothing really ever did.