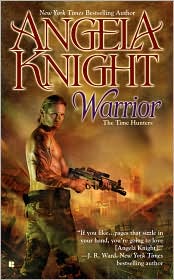 Title:
Warrior
Author:
Angela Knight
Publishing Date:
July 2008
Genre:
Futuristic
Rating:
C-
Sensuality:
Burning
Galar Arvid is from the twenty-third century. He has been sent to the past so investigate the death of a famous artist Jessica Kelly. He arrives in the year 2008, minutes before her supposed murder takes place. After an intense battle, barely saving her life, he takes her back to the future where her new life will be, as she can no longer live in her time. He has to keep her safe from the killer and she has to adjust to her new life.
I was very disappointed with
Warrior
. I read
Jane's Warlord
and had really enjoyed it and was looking forward to more of this series, but
Warrior
did not live up to my expectations. I just couldn't connect to Jessica and Galar. They seemed very superficial and sort of bland. Nothing about either of them really stood out for me. I did think that Galar was very thoughtful of Jessica when she was trying to integrate into the new world. She had a lot to handle and Galar tried to make the transition easier for her. Certain times he devoted a lot of thought and effort for Jessica and that made him sweet in my eyes.
The world building was the more interesting part of the book, but it still lacked that extra something special to make it really stand out for me. I found the whole time-travel aspect very confusing. I don't think it is explained very well. Jessica's exposure to the aliens never really makes sense and the test they give her is never completely explained. There are a few holes in the plot overall. I really had a hard time finishing this book.
Warrior
was a big, fat dud for me.
Here is what others had to say:
The Good, The Bad, The Unread
A Bookaholic's Review
The Book Binge
Cyn Reads
The Reading Spot